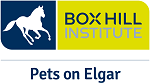 Pets on Elgar is a veterinary clinic and training workplace for veterinary nursing and pet grooming students at Box Hill Institute. The students have the opportunity to interact with pet owners and animals under the direction of experienced veterinarians and the supervision of veterinary nurses and pet groomers.
Pets on Elgar Services
annual health checks
wellness consultations
diet advice
vaccinations
heart worm testing, advice and preventative medications
worming advice and medication
dental hygiene advice
dental examinations
examination and treatment for fleas
skin and coat management advice
dental scale and polish
microchipping
minor surgical procedures
dental surgery with extractions
hydrobathing and pet grooming
desexing

Location
Box Hill Campus
Building E8, Ground Floor
465 Elgar Road, Box Hill
We are open during school terms. Contact us directly for available dates.