Celebrating National Reconciliation Week – Lilydale campus
Across Victoria, the heritage and culture of Koorie communities is vibrant, rich, and diverse, with approximately 38 different language groups.
At Box Hill Institute's Lilydale campus there is a strong connection to community – the community in Lilydale, the community in the surrounding Yarra Ranges, and the local Aboriginal community.
Director of BHI Lilydale campus, Mr Paul Newnham, said the Lilydale campus has a range of connections with the local Aboriginal community, including the name for the new state-of-the-art Trades Centre – Nallei Jerring Nyerboing.
Engaging Elders for advice on a name
"When considering a name for the new Trades Centre, we engaged Elders from the Wurundjeri Woi-wurrung Cultural Heritage Aboriginal Corporation for their advice on a name in their traditional language, Woi-wurrung," said Mr Newnham.
Aunty Doreen Garvey-Wandin, a Senior Elder, had several meetings on site at the Lilydale Lakeside campus, including a tour of the new centre and the history and background of Box Hill Institute's presence in Lilydale, but also the vision for the future including the Trade Centre purpose and plans.
Obtaining a "feel" for the campus and "energy" within the Trade Centre, were particularly important experiences for the associated name to resonate with the traditional owners.
Following consultation with other traditional owners within the Wurundjeri group, the final proposal for the name was presented to BHI for the Trades Centre as: Nallei Jerring Nyerboing, which in Woi-wurrung language means Join Unite Industrious.
Coming together and community atmosphere
Senior Elder, Aunty Doreen Garvey Wandin, said about the name: "We came together and came up with the name as we thought of the community atmosphere being at the Campus; we thought that join and unite was perfect for that area, and Industrious was perfect to represent all three areas of works that will be done in that building."
The Trades Centre delivers industry-current training in woods – building and construction, carpentry; plumbing; and electrical – electrical plumbing, electrotechnology; as well as automotive and certified passive house.
Another name on campus that connects Lilydale Lakeside to the local Aboriginal community is Jarlo Drive – the name of the road that the campus is located on. Jarlo Drive is named after Aboriginal Elders Aunty Joy Murphy Wandin and Aunty Doreen Garvey-Wandin's father – Jarlo Wandoon.
Jarlo tried to enlist for World War I but was rejected due to being an Aboriginal person. When he attempted to enlist under his whitefella name, James Wandin, he was accepted into the army and served in France and is listed under that name on the honour roll in Healesville RSL.
Jarlo Wandoon – remarkable local story
On returning home, Jarlo Wandoon had to get permission from the police to visit his mother, was escorted onto Coranderrk, and was only allowed half an hour with her before he was sent off to Lake Tyers Mission in Gippsland. Ultimately, Jarlo found work with the Postmaster-General's Department, and was able to buy a block of land at Healesville – a home for his family on Wurundjeri land.
Aunty Joy Murphy Wandin told the story of her father's enlistment, and subsequent dispossession and separation from family with the closure of Coranderrk in 1923, in the Welcome to Country speech she gave when Australian Prime Minister, John Howard, visited Healesville.
"It's a revealing, true and remarkable local Aboriginal story and, with the main road leading into the Lilydale campus named after Jarlo Wandoon, we want to tell the story through a display explaining the origins of the name – Jarlo Drive," said Paul.
There are also other initiatives planned for further Koorie connections at Lilydale campus.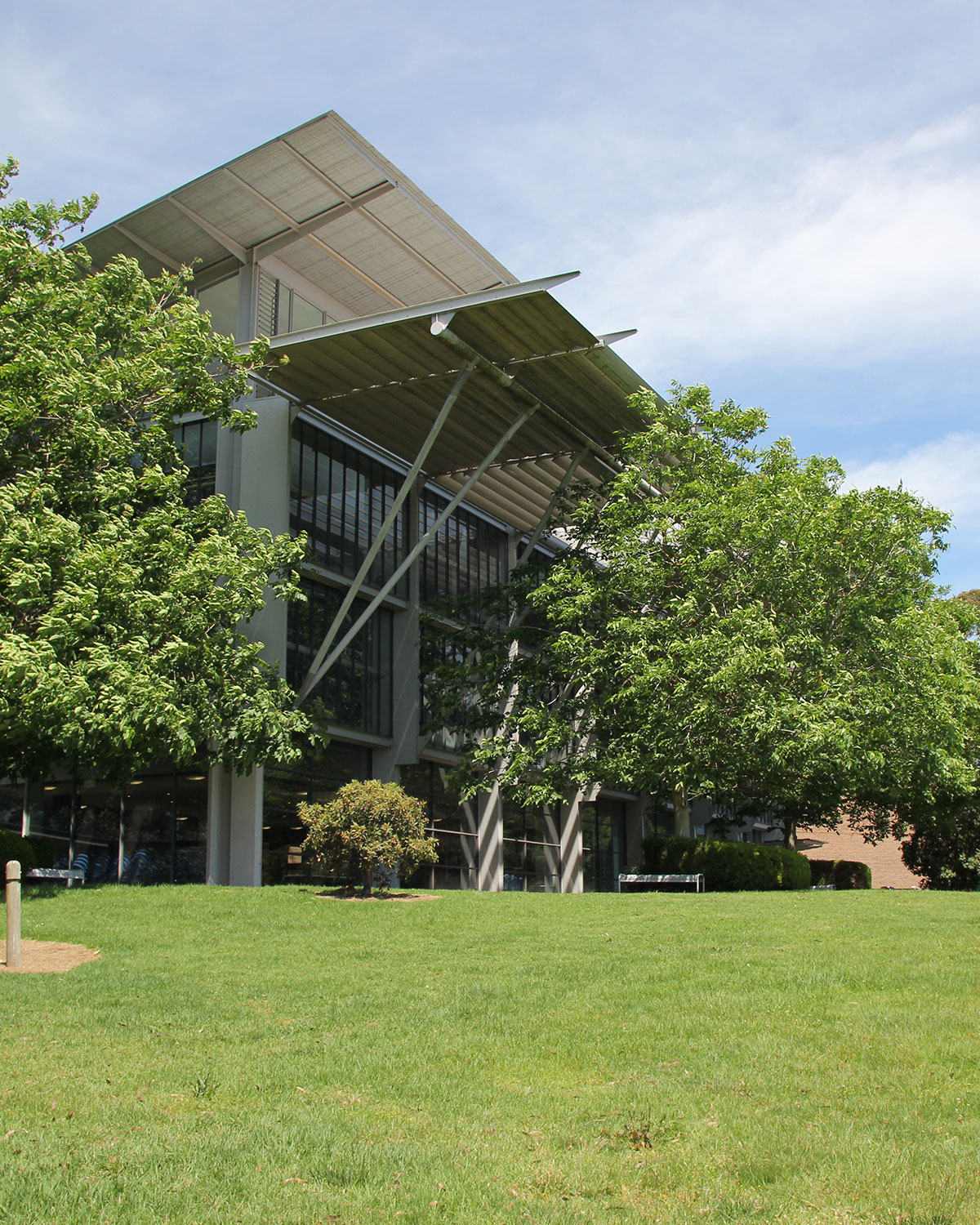 Native plants and land management practices
Coranderrk near Healesville is an historical working farm of cultural significance for the Wurundjeri community. It was originally established as a reserve for the Aboriginal people of south-central Victoria, operated under Australia's first administrative framework to "manage" Aboriginal affairs, an approach later adopted throughout the country.
Coranderrk's residents fought against efforts to control their lives. Their sustained resistance is often cited as among the first Indigenous campaigns for land rights and self-determination.
"Box Hill Institute is currently in discussion with the board of the Wandoon Estate to collaborate on horticulture and land management projects on the land – this includes the propagation of native plants and a range of appropriate land management practices.
"This initiative is very exciting and will involve Yarra Ranges Tech School and our current horticulture and land management students," said Paul.
Working with Worawa Aboriginal College – art, uniforms, and childcare
Another noteworthy initiative is BHI's Lilydale campus developing projects with Worawa Aboriginal College, based near Coranderrk.
Established in 1983, Worawa is an Aboriginal community initiative on Aboriginal-owned land and is governed by Aboriginal people.
The College provides a holistic education and boarding experience for young Aboriginal women in the middle years of schooling, from Years 7 to 12. The young Aboriginal women come from Aboriginal communities in urban, regional, and remote Australia.
Worawa Aboriginal College seeks preferred futures for young women who present with complex issues. Worawa provides a holistic education program integrating education, culture, and wellbeing – ensuring students have the opportunity to progress academically, socially, emotionally, culturally, and spiritually.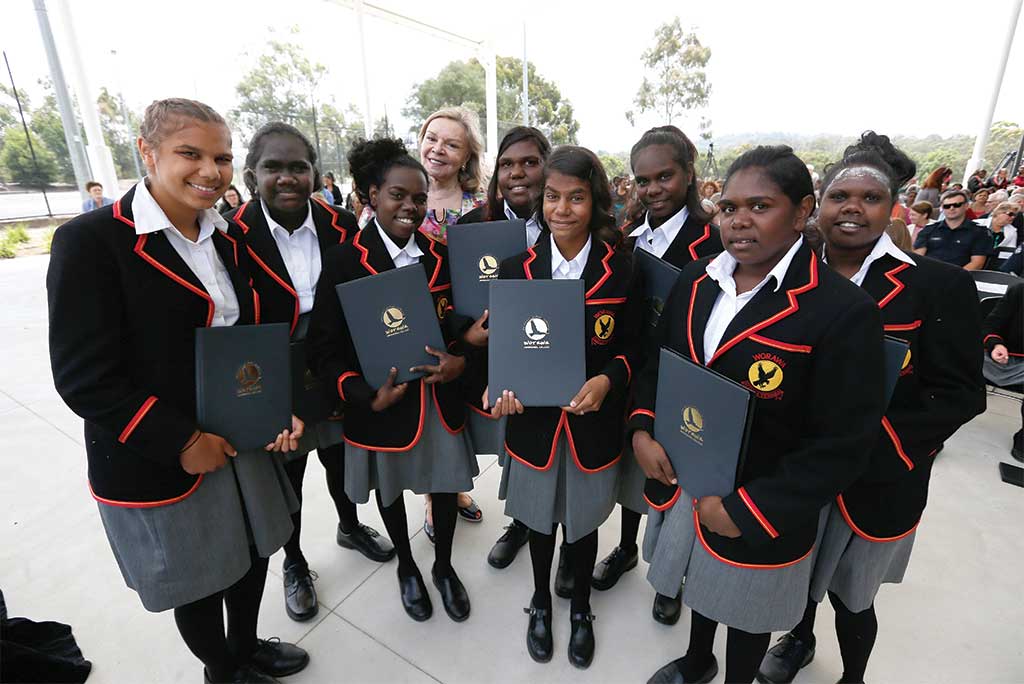 Ground-breaking projects to foster Koorie connections
"We are currently developing two innovative projects with Worawa College. One is for their art students, who will design and update our Lilydale Lakeside Children's Centre staff student uniforms – which will be fantastic to see.
"The other project is a collaboration between BHI, YRTS and CSIRO, where we will work with Worawa students to develop native plant essential oil products to retail and start a business.
"Both of these ground-breaking projects will foster and expand connections, collaboration and positive outcomes – for us and our students, Worawa Aboriginal College and its students, CSIRO, the local Aboriginal community and all the communities we connect and engage with," said Paul.
And last, but not least, is the Bukker Tillibul Sculpture at Lilydale campus on the lawn, leading down to the lake in front of the main building. It was officially named by Aunty Joy Murphy, one of Jarlo Wandoon's daughters, when she spoke at the naming ceremony on 16 October 2002.
Prestigious rock art watching over Lilydale Lakeside
'Bukker Tillibul' loosely translates to 'bottomless pit' and is the traditional Wurundjeri name for Cave Hill, which is adjacent to the Institute and formerly the site of the David Mitchell Quarry. Aunty Joy told a Wurundjeri tale of a star that fell from the sky and disappeared into the space where the quarry now stands, never to be seen again.

The sculpture is the work of Chris Booth, an internationally renowned environmental sculptor from New Zealand, who was inspired by the many crows that were present on campus. Chris works closely with the land, earth forms, and indigenous peoples of the regions where he creates sculpture.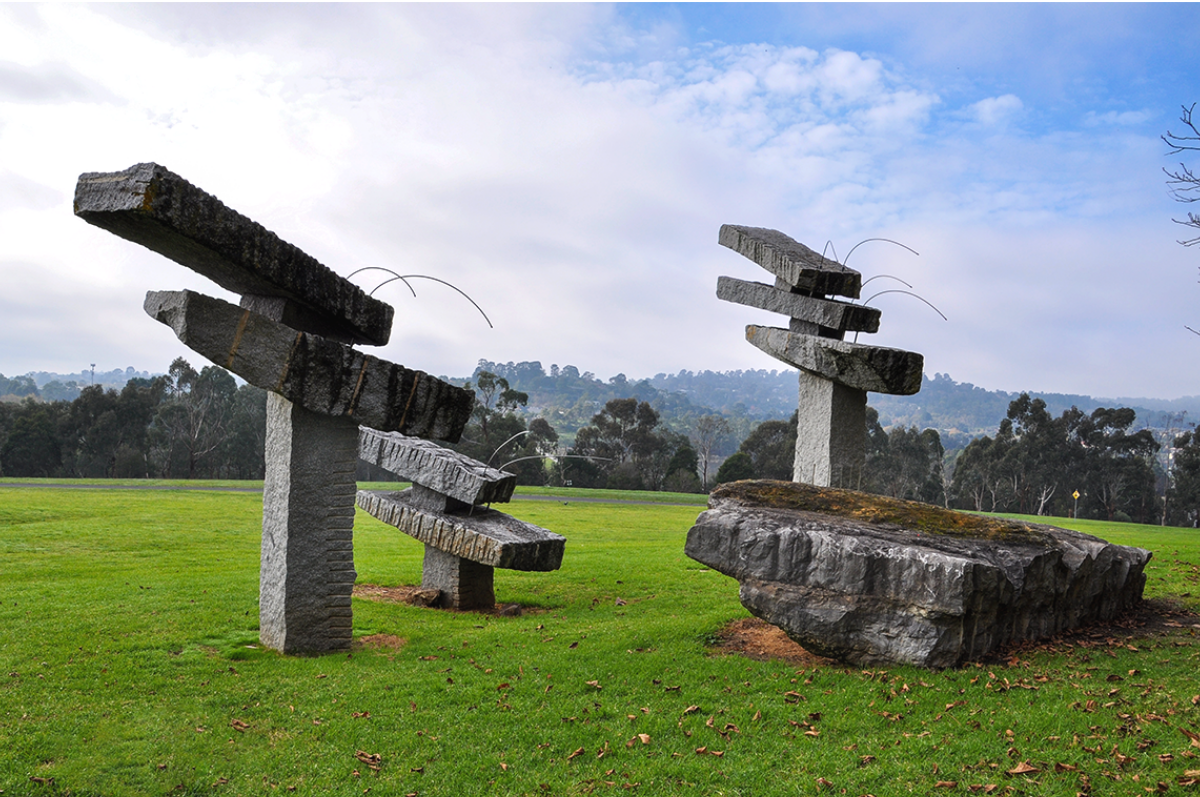 While finalising the concept of the design, Aunty Joy Murphy was delighted to inform Chris that the crow is a Wurundjeri totem, as is Bunjil the eagle. The large rock symbolising Bunjil came from the David Mitchell quarry and the three standing structures, symbolising crows, are constructed from granite from a quarry near Bendigo.

"We feel very fortunate and honoured to have this prestigious work of art connected to the site on campus," said Paul.
It sounds like Lilydale campus already has many Aboriginal connections, with more connections and innovative collaborations to look forward to … which in National Reconciliation Week 2021 is great to know.
We sincerely thank Worawa Aboriginal College for the use of the image of Worawa Aboriginal students on Corporate Graduation Day from its website.
Wurundjeri Woi-wurrung Cultural Heritage Aboriginal Corporation