Box Hill Institute courses now pilot tested and ready to address emerging skill gaps
In 2018, the Victorian State Government was concerned with the gap between industry needs and TAFE course outcomes. It wanted to address the emerging skill gaps and introduced the Workforce Training and Innovation Fund (WTIF) to deliver innovative strategies that improve training outcomes and increase the relevance of training to industry.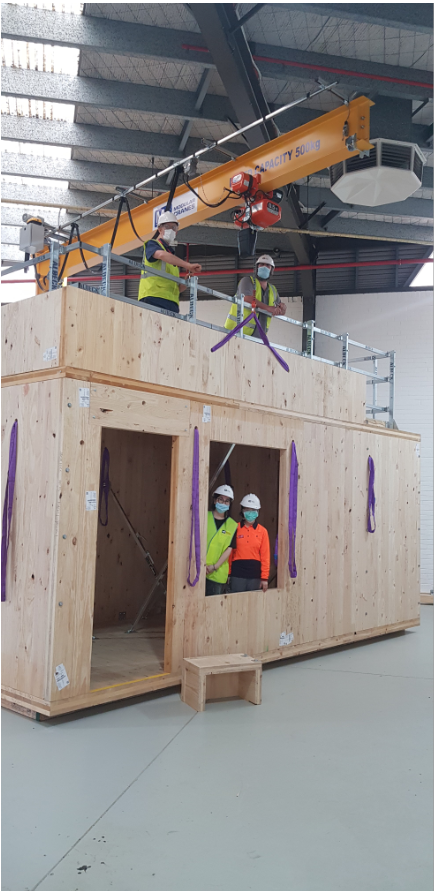 Box Hill Institute identified a need to educate industry in the technological advances being made in building construction around the world, particularly in building information modelling (BIM) and prefabricated construction.
Australia's construction sector is slowly embracing prefabrication at a rate of around 3-5% of all construction as opposed to 20% in Europe. Box Hill Institute consulted manufacturers and proponents of timber prefabrication in Australia, such as WoodSolutions and prefabAUS, to form a steering group that developed a hands-on learning experience for prefabrication construction and project managing prefabrication (timber) in the mid-rise space.
The WTIF allowed Box Hill Institute's innovative proposal to come to fruition. With an incredible amount of time and effort, the steering group, developed electronic resources, from the ground up, to complement future prefabrication technology.
The outcome is that learners can now experience the construction of three types of prefabricated timber buildings using a purpose built slew crane, which provides them with an understanding of a prefabrication work on site. The three prefabrication building types include cross laminated timber (CLT), glulam post and beam, and a laminated veneer lumber frame with cassette floor. There are many more types of prefabrication construction techniques but these three methods have been selected for their continuing longevity in the construction space. Other forms of prefabrication construction will be considered on merit in the future.
Box Hill Institute's experience throughout the pilot program has demonstrated this training is valuable not just for construction workers but for anyone in the construction sector, including engineers, building designers, architects or those wanting to upskill. The training will now be incorporated into the Certificate III in Carpentry and mass timber construction will be incorporated into the Certificate IV Building and Construction (Building) and the Diploma of Building Construction (Building).
If interested in enrolling in these courses please email prefab@boxhill.edu.au or call 1300 818 147.