Veronica Reynoldson has learned that she likes a challenge, in part thanks to her participation in the regional World Skills Australia competition in 2019, where she won gold for her patternmaking and sewing skills.
"Competing at World Skills taught me that I can push myself a bit, and that I can be up to the challenge if I want to be," said Ms Reynoldson, who was also awarded VETDSS Student of the Year in 2019.
Enthusiasm for fashion
Her enthusiasm for fashion began after her grandmother gave her a sewing machine. When her high school was unable to offer classes to meet her goals, the careers counsellor suggested a TAFE course might suit her needs.
It was while completing her two-year Certificate II in Applied Fashion course at Box Hill Institute Design Hub, that she learned about the World Skills Australia competition, which covers skills across a wide range of industries including automotive, hairdressing, graphic design, floristry, cyber security and welding.
"World Skills was being advertised around campus and my teacher, Irene Kounelis, asked if any of us wanted to compete," she said. "I thought that might be a bit fun, something different, so I signed up for it."
Participants in the World Skills Fashion Technology National Competition have to demonstrate their proficiency in a range of fashion-related abilities – from identifying textiles and determining the best use for different types of fabrics, to creating a garment that meets on-the-day specifications.
Stringent time limits to produce high quality garments
Creating a garment from scratch includes all steps of the process, from sketch to prototype to fully sewn garment for an exact fit. The final product must follow quality standards including being properly pressed to look shop-ready. The sewing element may demand advanced construction techniques including pleating, gathering or lined garments. All of this occurs under stringent two-to three-day time limits.
"Taking part in the competition has increased my knowledge and refined my skills," said Ms Reynoldson. "A big part of training for it is being able to work well under pressure to create the best work you can in the timeframe. That's been really useful with my job at a small fashion label. I've learned how to create high quality work quickly."
Now enrolled in the Box Hill Bachelor of Fashion, at the same time as working for that small fashion label, Ms Reynoldson has been preparing for the National World Skills Championships, with the continuing support of her mentor, teacher Irene Kounelis.
Face-to-face mentoring vs. online mentoring
The mentorship has been valuable to the fashion student. "You've got this one-on-one opportunity to ask lots of questions and have specific input," said Ms Reynoldson. "Irene is such a good teacher and she has so many tips and tricks. She can give me feedback on the pattern I'm developing and then I can apply it to any other pattern I'm doing within my course as well. It's a forum for skill-building, really."
It's just as well Ms Reynoldson is up for a challenge, because preparation for the National World Skills competition during the pandemic has not been easy.
"It interrupted face-to-face mentoring interaction with Irene," confesses Ms Reynoldson, "but I have a pretty good set-up at home and I've been using my coursework as a way to practise, adding new skills and new techniques. Before the latest lockdown, Irene and I created a list of things that I wanted to practise or try, and we've been working through them."
Her mentor, Ms Irene Kounelis, agrees: "Online mentoring isn't as easy as being right there with the student, looking at the garment, but we found ways around it. Veronica would send her work to me and I would assess it, take photos and go back to her with feedback and advice on what to try next."
Great experience and job opportunities
The process has added complexity to an already busy schedule – Ms Kounelis still teaches and works developing her own small business and Ms Reynoldson has to fit the mentoring around study and work. As a mentor, however, Ms Kounelis believes the benefits of participating are worth the effort.
"World Skills can provide job opportunities for these young people," says Ms Kounelis "The people and businesses that support and attend the event may be looking for prospective designers. But it's also giving the participants so much experience, which helps with finding jobs for these students."
"The stage is not just national, either," she said. "The winners of the national event may go on to compete at International World Skills level, so it exposes them across the world. A lot of fashion manufacturing happens in Europe and Asia, we are also seeing it returning to Australia too, so there will be more opportunities for anyone studying fashion, and World Skills is a great platform and opportunity, too."
And beyond World Skills? Ms Reynoldson said: "I'm really into hand sewing and intricate techniques. I definitely want work somewhere where there'll be a crossover of design and practical skills that hopefully incorporates all of that."
One way or another, Ms Reynoldson is definitely headed for a future in fashion.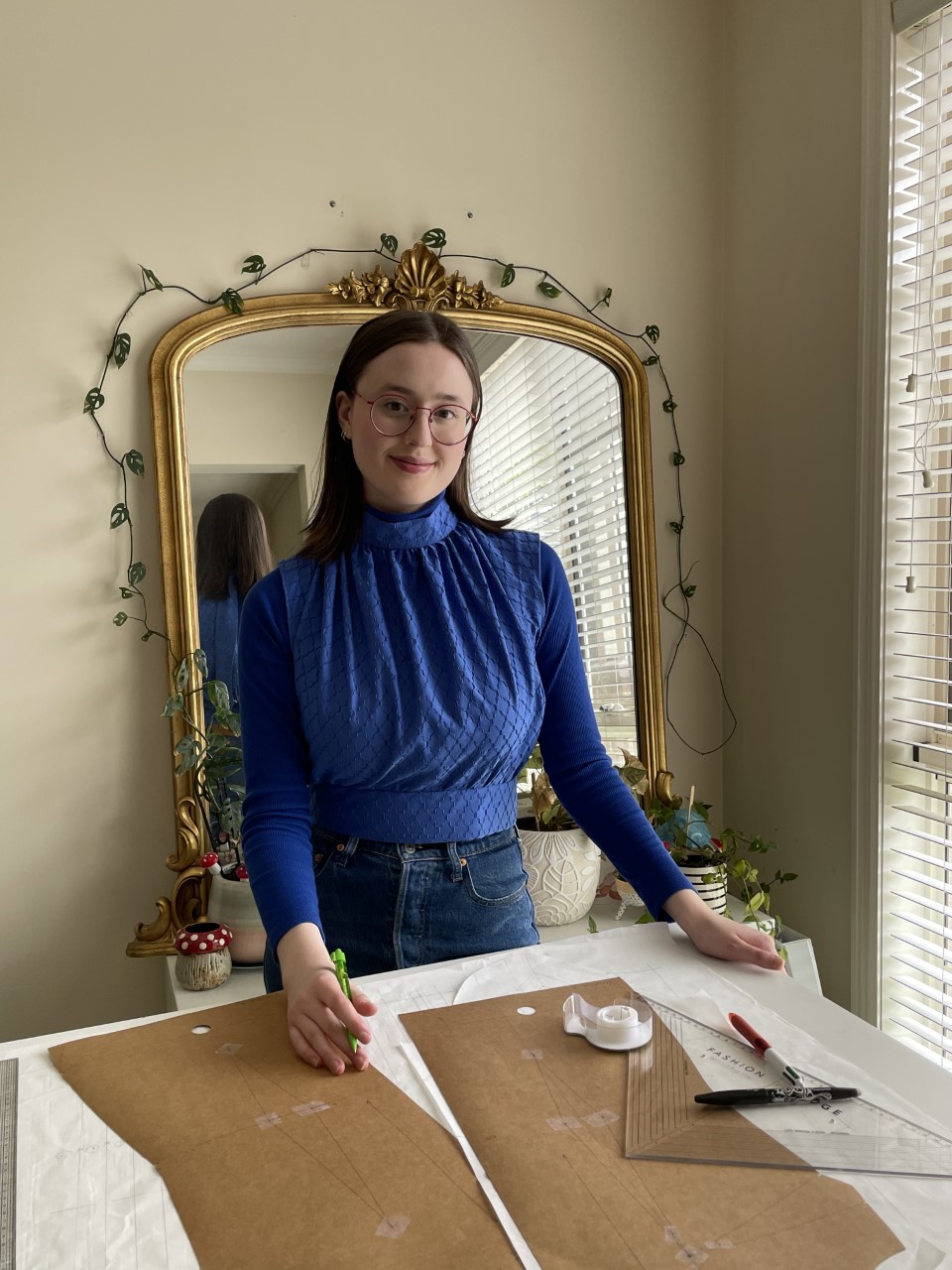 Due to Covid-19 and ongoing restrictions, the WorldSkills event due to be held on campus at Box Hill Institute on 21-22 October has been cancelled. All students who were due to take part in this event will receive a finalist medal and a participation award including Veronica Reynoldson featured in this story.
Worldskills and Box Hill Institute thank everyone involved – BHI Executive team, management, teaching staff, mentors and competitors for your contribution to the 2021 National training program and look forward to recommencing Worldskills activities in 2022.