Box Hill Institute partners with two of Australia's most awarded and loved industry professionals, Sharon Blain and Sarah Laidlaw. With their exceptional skills and masterful mentoring, they've teamed up with Box Hill Institute educators and students to create a second stunning collection: Eclecticism!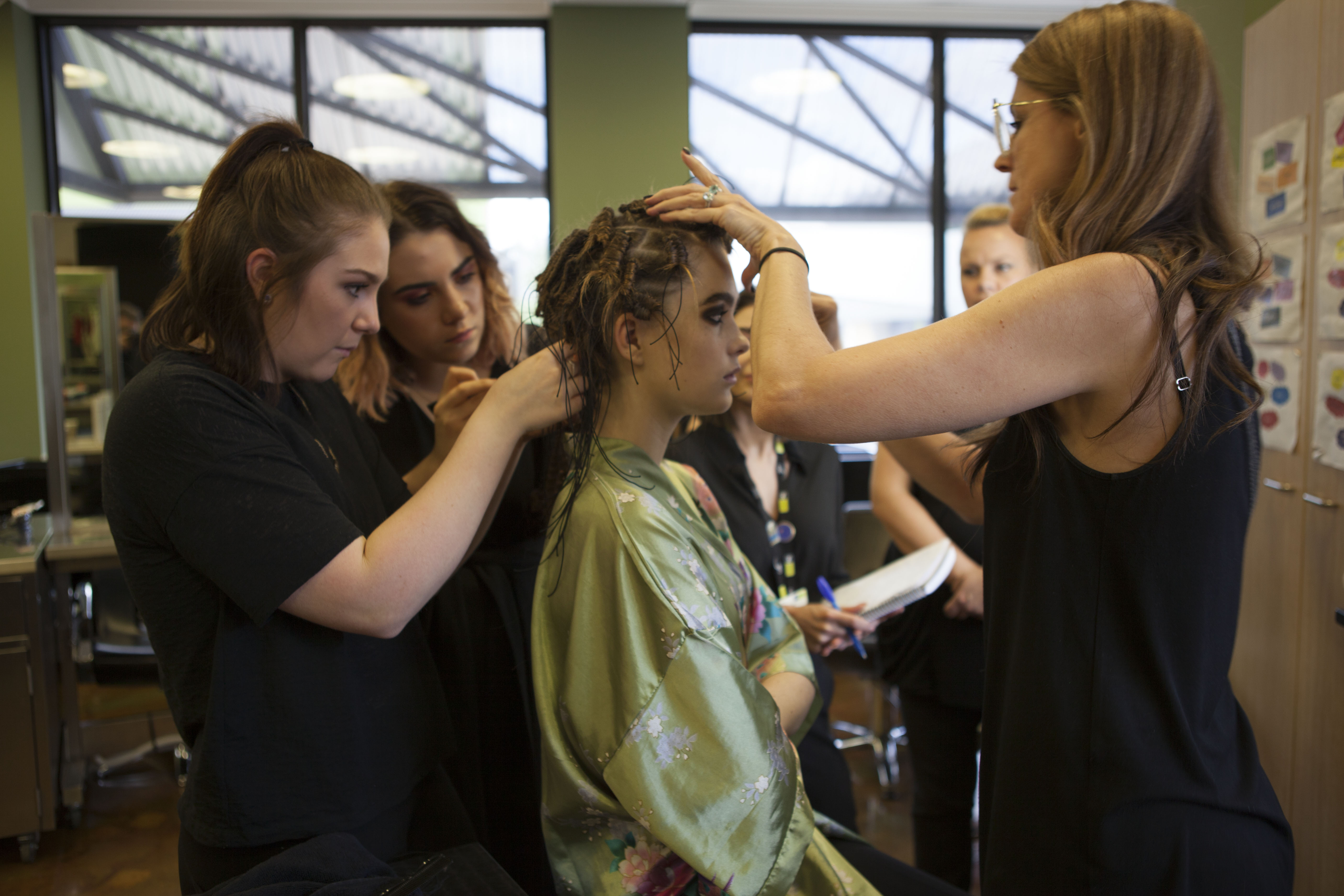 How did the team of Box Hill Institute educators and you work together?

Sharon Blain: It was an amazing experience for the students and teachers to work on this project under the guidance of our team. They learnt so many new hair techniques, latest makeup trends and saw how the creative process evolves.

Sarah Laidlaw: It was a fun and inclusive day. Sharon and I showed the educators how we each go about putting together a plan, mood board and direction for a shoot. We looked at the models and the fashion we had to work with, took into account the shoot objectives and planned a series of looks that would showcase the skills and techniques you can learn at Box Hill Institute.

What do you enjoy about being a mentor?

SB: I personally love to see the students' excitement during the shoot. Some had never experienced a photo session before. The opportunity Box Hill Institute has given the students is so valuable for their creative growth and development

SL: The moments where you see the person you're mentoring 'get it' and you see their self-confidence grow. That is such a wonderful thing to be able to bring out in people.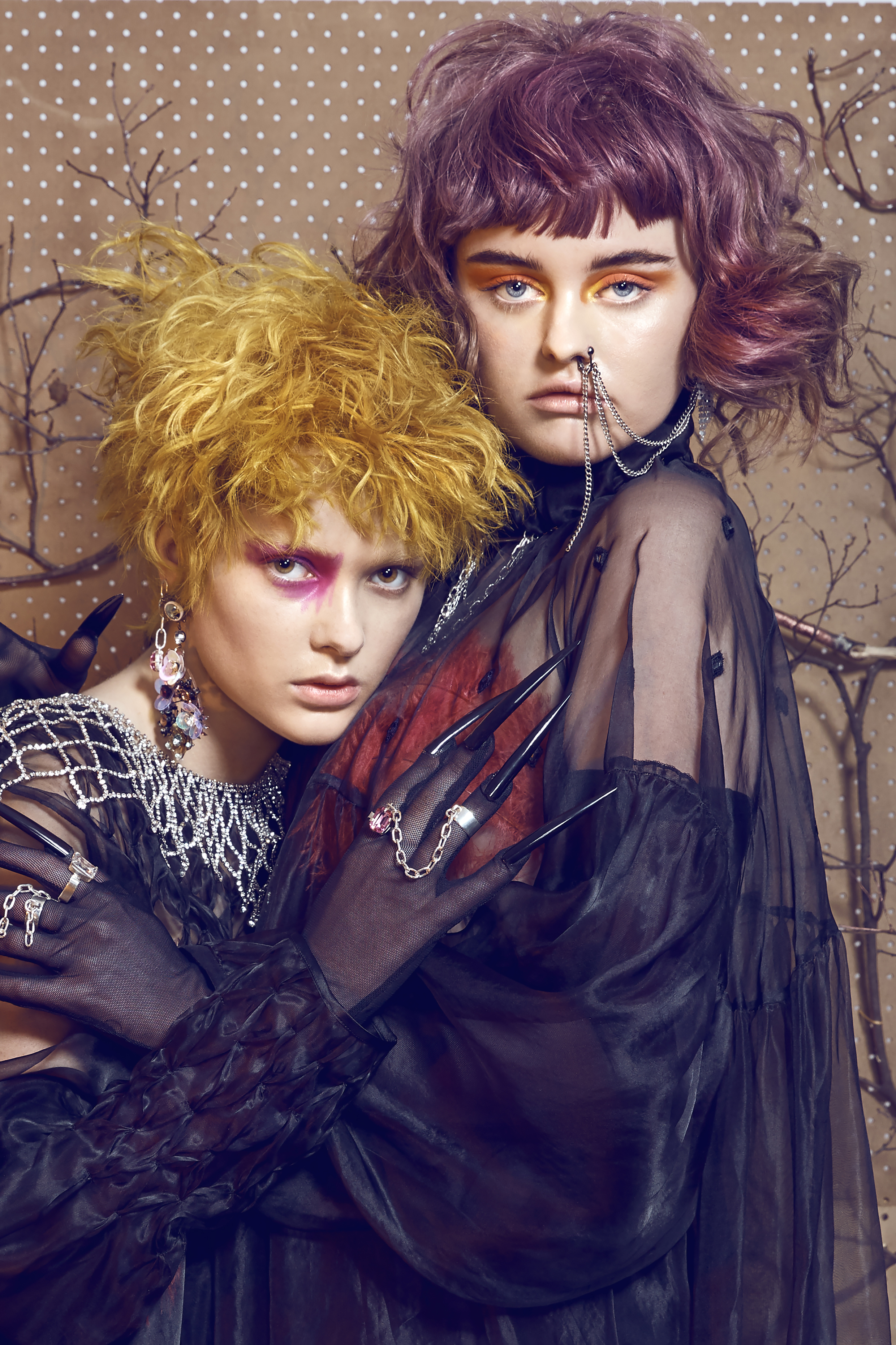 What most excited you about the shoot? What was the inspiration?

SB: We wanted to create a collection with longevity. The hair needed to be fresh and timeless. Our starting point was a new collection with strong features and an oriental feel that 2018 Bachelor of Fashion graduate, Geeta Akrami had created. The hair and make-up needed to work with the fashion but not to compete.

SL: I love working alongside other professionals who are passionate about their craft. Working with Sharon, Milos and Jess was a perfect team of like-minded creatives. Then being able to bring that energy into a group of excited, passionate educators and open up a different part of the hair and makeup world to them was a delight.

The initial inspiration came from the fashion we were shooting. Hair is an accessory just as make up and clothes are. We had a specific range of garments we were shooting, so the hair inspiration had to move around them. Then the next layer of inspiration is the models – their hair, face shape and colouring. Then it moves to being all about current hair fashion, techniques and tones.

The hairstyles and fashion are quite dramatic. How would you describe the new fashion direction in these looks?

SB: The looks begin with on trend cuts, more contemporary styling and a touch of avant-garde. The look and feel were more editorial driven and not traditional hair images.
The collection needed to consider various factors. Marketing the Box Hill Institute brand was the main consideration, namely showcasing four departments – fashion, makeup, hair and floristry. These looks had to portray a creativeness of and strong branding for the college.

SL: It's all about showcasing different looks, techniques and giving each model totally different vibes. I wanted to create looks that would be an interesting and beautiful partner to the hair and fashion looks without being overpowering. The clothes are dramatic and we needed to match the make up with skills that you can learn at Box Hill Institute.

This is your second shoot with Box Hill Institute. Why do you keep coming back?

SB: My team was excited to have the chance to recreate a new collection for a second time. It's such a rewarding job and each team member brings their A-level to the day. We all stretch our creativity and endeavour to deliver the most progressive trends on the day. Some images may seem a little extreme but one can't deny the powerful images that were the result of the two days.

SL: I think it's such a wonderful opportunity to contribute to the way young hair and makeup students are being taught about the industry. To be able to talk real-world experience and tricks with the educators means that information will alter and add to the way they teach the students. I am passionate about good training as I would not be where I am today without it.