Careers can take strange roads, as Box Hill Institute alumnus Sam Barr can attest. After a successful working life in the signage industry – first as a signwriter and then a production manager before moving into operational management – Mr Barr left it all behind to pursue his passion.
"I am a bit of a sports nut, and on moving to Melbourne, the Sporting Capital of the World, I could see an opportunity to work in an industry I love," said Mr Barr.
It was a big decision for someone already in the middle of a successful career and about to start a family, but with that drive to work in a field that sparked joy, Mr Barr enrolled in the BHI Diploma of Sport and Recreation Management.
"To create change at 40, I couldn't take a lot of time off to study," he said. "I decided to do a diploma rather than a degree, so I could achieve a qualification within a year and get into the industry."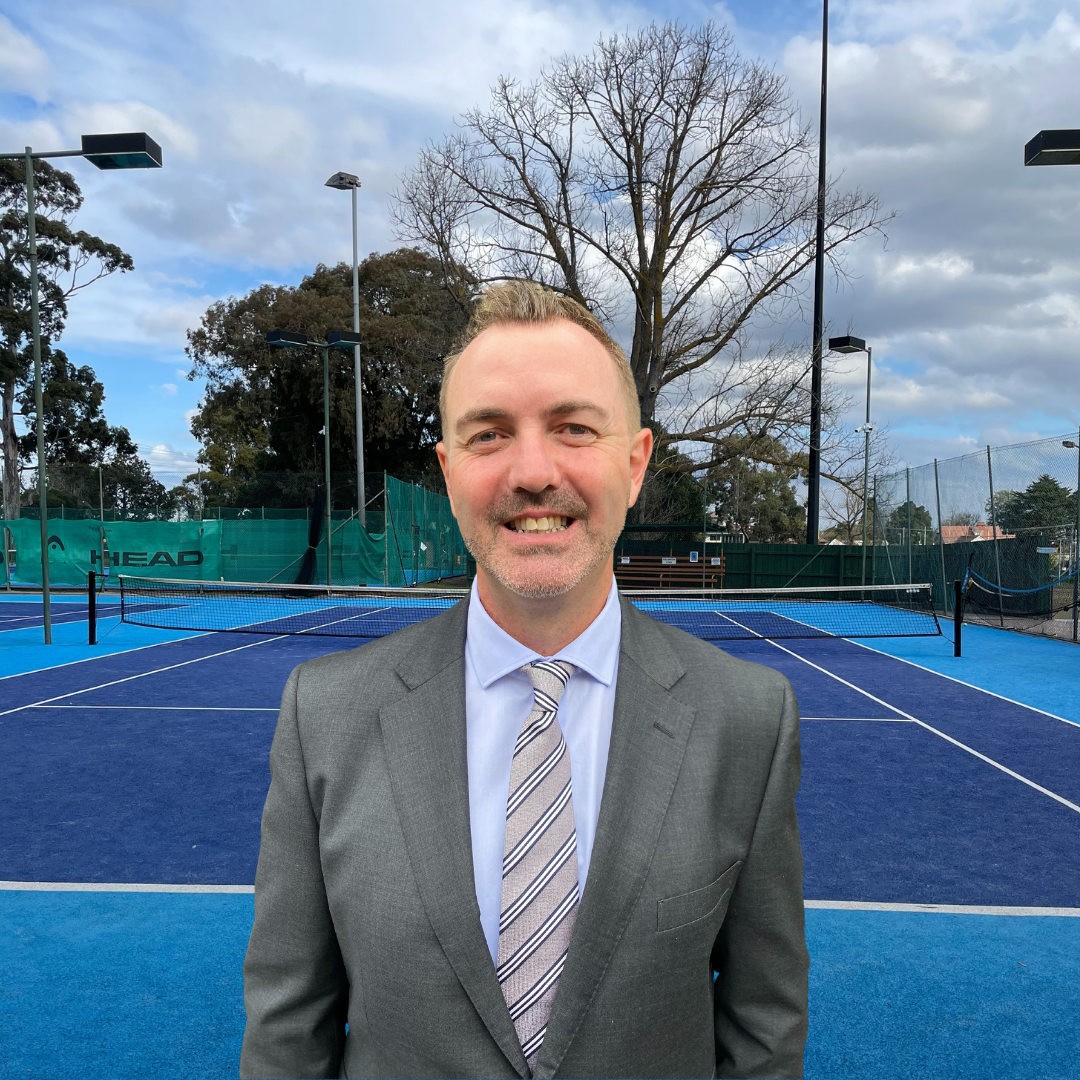 From Premier League soccer and AFL to golf and tennis
Sam Barr has always been mad about sports, from Premier League soccer and AFL to golf and cricket. But of all sports, tennis is closest to his heart.
"Tennis is my life," he confessed cheerfully. He plays tennis regularly and is on the committee for his local tennis club, a role that helped him to decide what he most wanted to do.
"Volunteering for the club is how I realised I wanted to work with grass roots clubs to build participation opportunities in sport and recreation activities, particularly for young people."
The BHI Diploma of Sport and Recreation Management gave Mr Barr and his fellow students some practical experience with events, even in a year disrupted by a pandemic, which meant industry placements – normally a key element of the diploma – were limited.
Developing a global e-sports tournament
Mr Barr was able to take on a leading role for three major events during the year, including an event that evolved from a physical to an e-sports basketball tournament. He was one of a team of five that, in their own time, scaled up from this success to develop a global e-sports tournament. The tournament, in which students from Singapore, Canada, the United States and Australia competed in live-streamed Rocket League match play, was a terrific success.
"My role as Digital Marketing Manager for the International Varsity E-sports Championships gave me crucial knowledge of marketing and social media management," said Mr Barr, who feels he learned a lot. "When we bumped into cultural or financial barriers to participation, we were able to show resilience and find solutions. That was really important."
Along with his involvement in the tournament, Mr Barr was the Event Director for the City of Whitehorse Ride2Work Day as it expanded into a new format.
He also brought his studies to his beloved tennis club. "The governance subjects enabled me to develop child safe policies and practices and risk management procedures for the club." He was able to apply the knowledge gained from the diploma directly to projects within the club, including facility improvements and grant applications.
Seeking the right role with the right sporting organisation
COVID-19 had a huge impact not only on how the course was delivered, but on job opportunities in the sports sector, making it a challenging time to change career. Even volunteer positions to gain experience were hard to come by, with so many organisations working in a reduced capacity and from home.
"It was hard because there were so few jobs around, and while some opportunities came up within my network, they were not roles I was genuinely interested in," said Mr Barr. "As a mature-aged student I didn't feel I had time to take on positions which didn't align with my passion of creating opportunities for people to participate in sport and recreation."
Mr Barr knew his background was also an asset. "I had a strong toolkit of transferrable skills, and it was only the change in industry that was the barrier, not my skills or experience. While it was tough on me mentally, I continued to work hard to find the right opportunity and grow my network. I took on a casual role working game day customer service at Marvel Stadium, as I knew it was a good way to get some industry experience, which was what I needed."
Exceptional support from BHI coordinator and teaching staff
Mr Barr also speaks highly of the support he received from the coordinator and teaching staff at BHI.
"Their support during and on completion of my studies was exceptional. Whether they were reaching out for a coffee and a chat, or passing on networking and employment opportunities, I felt I was well supported over the journey."
In late 2021, all of Sam's courage, perseverance, hard work and hard-won experience led to a new role as Tennis Victoria's Club Development Officer for the Metro South East region.
The skills and experience he acquired during his diploma, such as strategy development, financial and operational forecasting and reporting, and marketing, were directly applicable to this role, and combined neatly with the transferrable relationship management and project management skills from his previous career. He also credits the experience he gained working on the international e-sports tournament with helping him to secure the position.
Connecting and creating opportunities for diverse young people
"Identifying opportunities for under-represented groups, including culturally and linguistically diverse (CALD) communities, to participate in tennis programs is a key element of my new role, so being able to connect and create opportunities for students globally to participate in and enjoy the event was directly applicable," he said.
Mr Barr says that the Tennis Victoria position is his dream job.
"The ability to work with the sport I love means my career and lifestyle are closely aligned, and I want to be the best role model for my son that I possibly can," he said. "Tennis Victoria has an amazingly warm and supportive culture, and the professionalism and drive for constant improvement is embedded right across the organisation. This is the perfect environment to thrive personally and professionally, and I see myself here for a long while to come."
Mr Barr is keen to make a real difference in his community. "Over the next decade I want to keep learning and have a positive impact on the health and wellbeing of others."
Advice for career change – whatever your time of life
For people considering a career change, whatever their time of life, he suggests taking up every opportunity available to learn as much as possible, especially if it takes you out of your comfort zone.
Summing up, Mr Barr said: "Apply yourself to all the tasks. It's the tough ones you will learn from the most and this will hold you in good stead for the future. Build experience and seek as many personal development opportunities as you can, and you will achieve your goals if you stay committed and work hard."